Bringing Indigenous Rangers to the Inner West
Minutes of Ordinary Council Meeting held on 25 June 2019
https://innerwest.infocouncil.biz/Open/2019/06/C_11062019_MIN_3698_WEB.htm
Motion: (Da Cruz/Kiat)
THAT Council seek to establish an Indigenous Ranger Program and approach Federal Government for funding.
For Motion:
Crs Da Cruz, Drury, Hesse, Iskandar, Kiat, Lockie, Macri, McKenna OAM, Porteous, Stamolis, Steer and York
Against Motion:
Cr Passas
Councillor Raciti returned to the Meeting at 8:03 pm
AGENDA Council Meeting TUESDAY 11 JUNE 2019
Item No: C0619(1) Item 6
Subject:
Notice of Motion: Indigenous Rangers
From: Councillor Marghanita Da Cruz
THAT Council seek to establish an Indigenous Ranger Program and approach Federal Government for funding.
Background
Indigenous Rangers are specialists whose work would relate to our bushcare programs and sites of Indigenous Signifcance in the Inner West. We don't currently have rangers or specialist indigenous knowledge in the bushcare-biodiversity area. Cr Dominic Wy Kanak chair of the ERLGATSIF is supportive and the forum could be used to progress this across all the member councils (Waverley, Woolahra, Bayside, Randwick, City of Sydney and Inner West Council).
According to the Prime Minister and Cabinet website, "the Indigenous ranger projects were first funded in 2007 through the former Working on Country Program and create meaningful
employment, training and career pathways for Aboriginal and Torres Strait Islander people in land and sea management. Indigenous ranger funding has created more than 2200 full-time, part-time and casual jobs for First Australians around the country." https://www.pmc.gov.au/indigenousaffairs/environment/indigenous-rangers-working-country
According to AIATSIS: "In the 1970s and 1980s, recognition of land rights in the Northern
Territory highlighted nationally the importance of land management by Indigenous people on
Indigenous land. The term 'caring for country' became popularised to describe this land
management. The description of caring for country as 'Indigenous peoples land and sea
management' logically draws attention to the environmental and landscape management outcomes of this activity, however caring for country also has benefits for the social-political, cultural, economic, physical and emotional wellbeing of Indigenous peoples. There is a growing field of research documenting that caring for country is intricately linked to maintaining cultural life, identity, autonomy and health. Native title and other land rights regime have extended the formal recognition of Indigenous people's land holdings, and caring for country is important not just for local places, but for the coordination of environmental issues that have national reach." https://aiatsis.gov.au/research/research-themes/land-and-water/benefits-caring-country
The Indigenous Ranger Program (Country needs People – protecting nature transforming lives): "Indigenous rangers work to protect native plants and animals, control feral animals and invasive weeds, reduce dangerous wildfires, maintain tourism and cultural sites, and more. Indigenous Rangers carry out biodiversity surveys and environmental monitoring and combine traditional tracking skills with modern science to detect ecosystem dynamics. Species conservation successes as a result of Indigenous land and sea management have occurred around the country. An example is the use of motion cameras by a number of ranger groups. These have provided new and important information about threatened species distributions. Indigenous rangers work on these lands and beyond to combat a variety of environmental and cultural threats. Indigenous rangers are funded through a few different mechanisms but the most significant is the Australian federal government's Working on Country program. This program combines Indigenous traditional knowledge with modern techniques to protect and care for the land and sea. As of June 2018, the Working on Country program supports 118 ranger groups across Australia and funds over 831 full-time equivalent jobs – that's more than 2500 jobs when broken down into casual, part-time and full-time positions. Aside from the many environmental benefits of Indigenous rangers, the ranger jobs also have many social and economic benefits. A report commissioned by the federal Department of Prime Minister and Cabinet found that Indigenous land and sea management delivers up to a three dollars' worth of environmental, social and economic value is delivered for every one dollar spent. Aboriginal & Torres Strait Islander communities have reported flow on benefits including more role models, better mental & physical health, strengthening of culture & women's empowerment. Indigenous ranger jobs are at the frontline of nature protection Australia-wide & are delivering transformational benefits for people at the same time. The vast landscapes of Australia need active management to protect against environmental threats like feral animals, invasive weeds & destructive wildfires. We need more people working on country to address these threats. Because of factors like geography, culture & skills, Indigenous rangers are at the frontline of addressing these threats.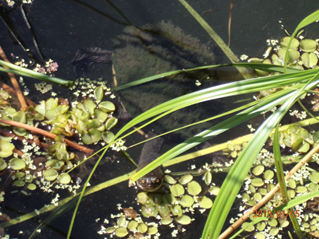 Long Necked Turtle, White's Creek Wetlands 5 Jan '18
Aboriginal and Torres Strait Islander organisations around the country report high and growing demand for ranger jobs. Indigenous rangers have strong positive impacts on nature, families and communities and growing the number of rangers will benefit all of Australia. Indigenous rangers work across Australia on a range of different types of land and sea country. Rangers work on Indigenous Protected Areas, in national parks, local government parks, on privately-held land and on the sea. Source https://www.countryneedspeople.org.au/indigenous_rangers
Council's Bushcare Programs
Council supports volunteers through 2 nurseries and in several well established bushcare groups in Annandale, Balmain, Birchgrove, Camperdown, Dulwich Hill,Marrickville, Newtown, Rozelle and Summer Hill. The Bushcare volunteers weed pockets of remnant pockets of bushland and propagates local provenance plants to reintroduce into these pockets, parks, streets and gardens – thus playing a vital role in protecting Sydney's biodiversity. However, ther Indigenous perspective has been missing. Bushcare in the Inner West dates back to the 1990s. Council recorded 1400 bushcare volunteers in 18/9. Each would have done a minimum of 3 hours a year but some doing 6-9 hours a week. This adds up to over 4200 hours. At a nominal rate of $30ph for volunteer time this adds up to more than $126,000 of work a week. RMS recognised Bushcare work by volunteers by offering council compensation for Bushcare work in Buruwan Park. Leichhardt Council used to purchase carbon offsets in lieu of payment to volunteers.
Officer's Comments:
Comment from Chief Executive Officer:
Council staff are currently preparing a "state of play" on current bushcare arrangements and if this motion is adopted this program will be investigated as part of this review.